LCMT 1999 - from Gulpen (Netherlands) via Ardennes towards De Panne Beach
Today back to the nineties: PIONEERS ON THEIR ADVENTURE TRAILS THROUGHOUT THE LOW COUNTRIES!
Winner LCMT 1999 : Wouter ROGIERS (BEL)
Runner up : Thierry Goos
Third : Marcy Meeuws
Despite the long distances only short trails during the stages were used for the time-registration. The rest was recreative but of course obligational as well. Those time-trials were divided under next winners: Wouter Rogiers (4 X), Jo Naert (2 X), Thierry Goos (1X), Marcy Meeuws (1X) .
Gedurende drie van de 9 (!) etappes was de top-3 van het toenmalige Belgische profmountainbiken aanwezig in de LCMT. Met name Filip Meirhaeghe, Peter Van den Abeele en Roel Paulissen maakten toen hun opwachting en verbroederden spontaan met het net geen 80 koppen tellende deelnemersveld. Op de eerste 3 dagen startten er trouwens ruim 120 mountainbikers. De formule liet toen toe om 3 van de 9 ritten uit te pikken. Vooral de 3 Ardennen-dagen kenden hierbij succes.
Do you remember the original stages of that first year? Here is the whole itinerary?
Stage 1: Gulpen (Nederlands Limburg) - Bütgenbach (1st start on 7 August 1999).
Stage 2: Bütgenbach - Houffalize (1ste X in current hotel then known as Ol Fosse d'Outh!)
Stage 3: Houffalize - Rochefort
Stage 4: Rochefort - Citadelle of Namur
Stage 5: Namur - Halle (nearby Brussels)
Stage 6: (Halle) - Geraardsbergen - Ronse
Stage 7: Ronse - Ieper (Ypres)
Stage 8: Zillebeke (Ieper) - Heuvellandse bergzone - Rodeberg
Stage 9: Rodeberg - De Panne Beach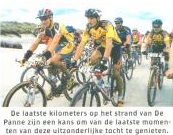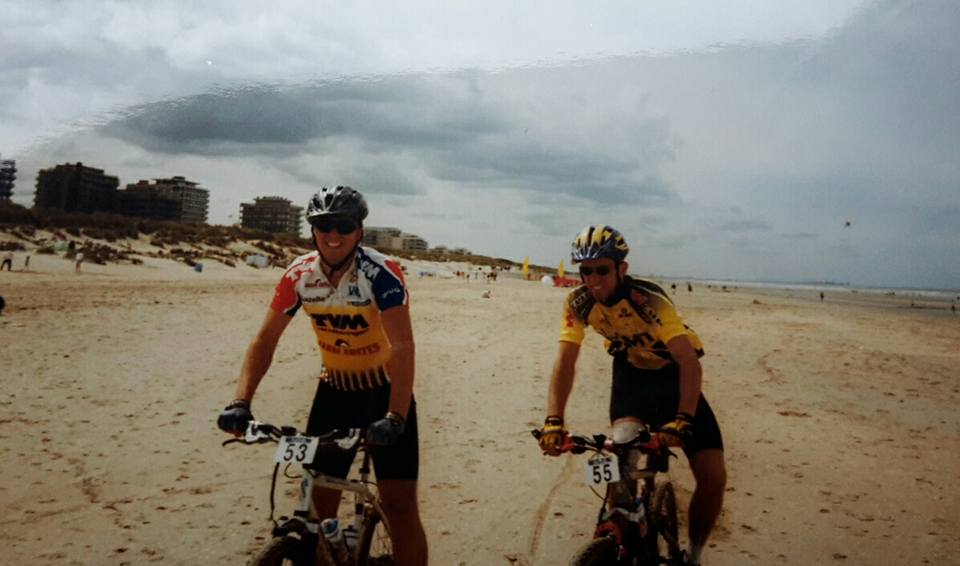 LCMT 2000 - Björn Rondelez the best, 200 starting in Gulpen, 70 finishers in De Panne
LCMT 2000 - Björn Rondelez, man of cyclocross the best in 9 stages
Winners of the chrono-stages: Leon Daniels (Nl- Gulpen-Gulpen); Bjorn Rondelez (Hoge Venenchrono); Bjorn Rondelez (Cherain-Houffalize); Peter Van Den Abeele (St.-Hubert - Nassogne); Bjorn Rondelez (Dinant - Haut le Wastia); Etienne Stienen (Leuven); Filip Meirhaeghe (Geraardsbergen); Gert Peleman (Koppenberg - Oude Kwaremont); Bjorn Rondelez (Nieuwkerke - Rodeberg); Walter Peeters (Rodeberg - Catsberg).
PHOTO: Ypres, Grote Markt before the last stage