LCMT 2021 MOUNTAINBIKE STAGES
A brand new program: starting from Spa in 2021

Look here to discover all about the total new stages as LCMT 2021 will be situated in and around 'Spa', city of water and health!



Etap 1 : Houffalize - La Roche & Mur de Borzée - Houffalize : XL-distance 90 km - Large 69 km - Medium 47 km
Superb stage with large focus on beautiful La Roche. Incudes the 'Muur' (Wall) from Borzée. No more 'Mur' de Moulin de Strument as we are taking the opposite direction. But having so many bikers setting foot on that climbing, perhaps most of you will appreciate this year's alternative? Also 2 horter versions available (one without the big climbings).
Etap 2 : Houffalize - Clervaux - Houffalize: XL 94 km - large 72 km - medium 53 km
Many singletracks today in the beautyful environment of Grand Duché de Luxemburg, nearby pittoresque Clervaux and its Abbey. In 2020 we will circle anti-clockwise around Clervaux!
Etap 3 : Houffalize - Bertogne - Houffalize: 78 km or 43 km (2 distances on final day)
This was the opening stage in 2018 but much appreciated as finishing stage in 2019. With a somehow other start in2020, this ride offers a lot of wood, so the real Ardenne-experience. Max. 78 km on this final day and therefor 'only 2 choices' on distances. Passage near at the famous La Chouffe beer brewery in the end!
You ain't seen nothing yet!
On top of this page you get introduced in the 22th edition of the LCMT for mountainbikers.
Go to our LCMT-CHANNEL (videos) to see some of our
action scenes
.
Down below you can see also distances and ascent meters for every stage & XL/Large version. Be sure of one thing: this is the best you can experience in the Belgian Ardennes & ast-Belgium on a mountainbike!
This is how the 2021 stage profiles look like (XL-versions only here for the moment)
Stage 1 from the 'corona-year' 2020...
Houffalize - La Roche - Houffalize
90 km

2472 ascent meters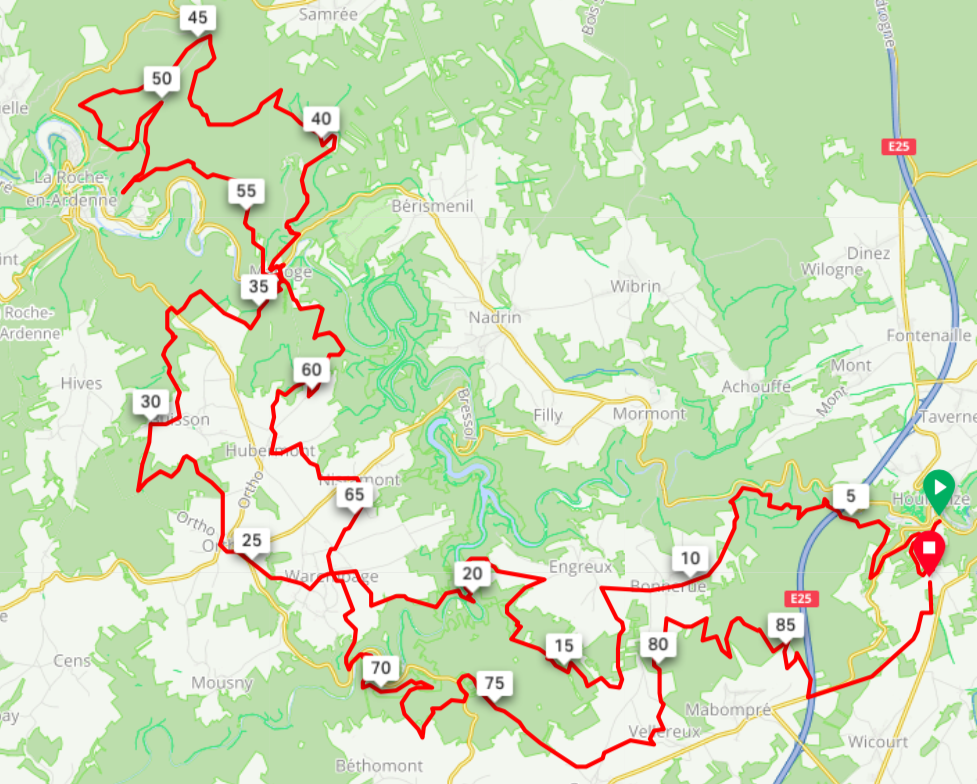 NEW STORY OF STAGE 2019 STILL UNDER CONSTRUCTION!

This is the story of 2018
The first stage will start straight away direction Côte de St.-Roch. Beautiful biking direction Bonnerue and further up against the sharp Ourthe-flanks. We cross over to Warempage. First supply zone. If you are in to a rather calm start of your fun-tour, it's an option to go back from here and limit you to the ' 47 km'-trip. Any how, that's the only shortcut option in this ride. Perhaps more ' medium ' so and not really "large", although we have put it in our review under that umbrella. The supply zone, however, is also the gateway to a never before discovered mountainbike area in LCMT. We designed indeed a 40 km long biking trail through beautiful Ardennes forest. Enjoy this succession of descents and climbs. During our winter exploration it was quite a challenge to keep our feet dry when (on foot) crossing the water near Mousny. But, all the time off road biking in this fully wooded area is a 100% nature experience! We get our second supply near Givroulle (Bertogne) and also found a challenging 'best climber'-contest just after crossing the main road Bertogne-La Roche. A spicy climb over typical stones brings us back to Warempage (supply again, same as 1st passage). The LCMT-bike peloton then turn on course to Engreux, also there is another rather long ascent. With what you already have done, fatigue in the legs sure will play in everyone's judgment about the gravity of that slope. Through the environment of Achouffe (remain south of the 'beer-village') we get the finish gradually in sight.
Where to find the most interesting zones to support your favourite mountainbiker?
Use this
LINK
and you can find the best places on the tracks of the LCMT mountainbike stages (for GPS). We will refresh the link of course with new stages (now still the 2019-tracks, only few weeks before start GPS-co-ordination points will be updated).
@yourservice!
Stage 1 - Large

Houffalize - Buisson - Houffalize

69 km

1791 ascent meters
Opening stage but not the longest distance? With this 'large' one still 69 km and nearly 1800 ascent meters a good starter!
Stage 1 - Medium
Houffalize-Warempage-Houffalize
47 km
1282 ascent meters
Do not force yourself!
If you have not so much time to do all the hours training before, this is a perfect start of your LCMT Ardennes adventure. Sure, tomorrow you will even feel stronger!
Houffalize - Clervaux - Houffalize
94 km

1964 ascent metres
Highlights of this stage.


Houffalize - Clervaux - Houffalize
72 km
1344 ascent metres
Houffalize - Asselborn - Houffalize
53 km (and 1008 ascent meters)
Stage 3 - XLarge
Houffalize - Bertogne/Givroulle - Houffalize (Saint-Roch)

78 km
Stage 3 Medium 2nd distance on final day
Houffalize - Warempage - Houffalize